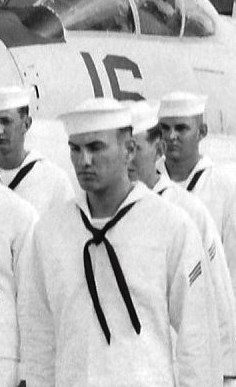 Revised June 10, 2023
My Autobiography: by Frank Consentino Jr, Palm Coast Florida
I was born on July 17th 1938, and I am approaching 85 years old. I'm a Great Grandfather twice over
I can trace my family back 10 generations to Sicily in 1785, and I am the last of 6 generations of apprenticed hand shoemakers.
In 1898, my family emigrated from Sicily to Lawrence Mass, about 50 miles north of Boston. That area was the heart of New England shoemaking and had the largest woolen and cotton mills in the world.
My children and grandchildren remember my Dad who was born in 1912. In 1931, at the age of 19 he took over the Harvard athletic equipment repair shop in Cambridge Mass, because he was a first rate shoe maker, and a great shoe machinery mechanic. 3 yrs. later he married my mother Connie and they lived in Cambridge, so I was born in Boston proper.
When I was 3 ½ years old my mother had my brother Richard. She died of complications 26 days later at age 29.
I didn't know that my mother had died until my Dad took me to my maternal grandmother's house, where she was laid out in a coffin for three days in the living room.
All the old Italian ladies were dressed in black and were crying. I was made to kiss my mother in her coffin, and to say goodbye to her. This was an extremely traumatic event for a young child, and I developed something similar to modern Post Traumatic Stress Disorder. I had nightmares and couldn't stop crying.
My Dad was devastated, and never got over losing my mother until he died, March 31, 2009, at 96.
Japan bombed Pearl Harbor a month later and Dad scrambled around trying to find a place for us kids to live while he worked for the war effort in the two Boston Navy Yards. My new born brother landed in a loving home and stayed there for 6 years.
The adult males in my family were all drafted, and the wives took turns working for the war effort and keeping their own kids. They couldn't care for a sick child for very long, so I bounced around in foster homes for the next 6 years. Some were good and some were pretty bad. I was often hungry and abused. One woman tried to smother me with a pillow because I wouldn't stop crying. Fortunately her husband stopped her, but I was sent to yet another foster home. Another time I was locked in an old ice box and nearly died of asphyxiation. I probably lived in a dozen homes throughout the war. All these things added to the trauma, but I know now that God saved me because he had other plans for me.
After the War, my father started an athletic shoe repair factory, and he married a widow with a home in Medford Mass. in an effort to give us kids a normal life. Dick and I never got along with our stepmother and step sister, because they abused us psychologically. My paternal grandmother was one of the two stable women in my life. My mother's sister Yolanda was the other.
I went to work with my Dad from age 9, where I learned the shoe industry, and I learned to install and repair all kinds of machinery, even as a boy.
I had 3 newspaper routes and I collected coins. Over the years I built a large coin collection. As a teen ager, I worked in a soda fountain after school, and in the summer I worked for hardware stores when I wasn't working with my Dad. I learned self-reliance at an early age.
Dad always told me that I had golden hands. I wasn't a musician like him, but I could build or repair almost anything.
When I was barely a teenager, Dad and I built a cottage on a lake in New Hampshire. At 16, I bought a boat, motor and trailer for $1600 and I paid it off in a year. Dad always had new cars, so I didn't need one of my own. He was very forgiving when I cracked them up a couple of times.
In 1956, I graduated from Medford High School, where I had studied drafting, architectural drawing and blueprint reading. I was the President of my biology class and I got an A on my thesis about numismatics, the "Hobby of Kings" I ran the mile on the track team, until I broke my leg on the basketball team.
I joined the Navy right out of high school and spent 4 years of active service and two years in the reserves. I had high scores on my Navy tests, and I was made a petty officer in boot camp. I served from 1957 to 1963, between the Korean and Vietnam wars.
My biggest regret in life is that I never accepted the Navy's offer to send me to the U.S. Naval Academy for free. I was still in boot camp, and they wanted me to sign up on the spot for an additional 12 years. I wasn't yet sure if I would like the Navy that much.
I was stationed in the Pacific as a radarman, aboard two aircraft carriers, USS Bennington CVA 20 and USS Midway CVA 41. Radarman also serve as lookouts on the upper decks of the carriers, which are some of the most dangerous places in the world to work. I saw numerous men get killed on those decks. My General Quarters Station was on the bridge status board right behind the Captain's chair. I was chosen for this job because I had excellent printing ability from my drafting training
I also served for 18 months in Fleet Aircraft Support Squadron 118 situated on Naha Air Force Base in Naha Okinawa. We worked on Navy fighter planes that were vectored to the island because they couldn't land on the carriers for some reason. Most of the time, we had to foam down the runways, so sick planes could land without their landing gear.
When things were slow, I would deliver mail in a big mail truck to the ships that came in to port. I would lean on my big air horn, and departing ships would reverse course to pick up their mail. There was nothing like mail from home when you were out to sea for a long time.
I was always adventurous and filled with curiosity. In the Navy I became a scuba diver, and I always competed on Navy shooting teams. Some guys went on liberty and ended up in the bars, I went sightseeing in exotic places all over the Pacific. In my years of Pacific travels I have been to Hawaii, Japan, Hong Kong, Okinawa, Wake, Midway, American Samoa, Tahiti, Bora Bora, and numerous other places. I went to Nagasaki in Japan, where we had dropped the second atomic bomb just 14 years earlier
I ate the local foods and I dove on dangerous shipwrecks, still loaded with World War II ammunition.
In the early days of scuba diving on Okinawa we built our own air tanks and made our own fish spears. The Air Force gave us a Quonset hut for a clubhouse and we used the Joy compressors that start jet engines to fill our air tanks. The motor pool gave us trucks. In return we were asked to recover the bodies of pilots lost in the surrounding ocean.
I once was coming up from a deep dive and had to cut my way out of a huge commercial fishing net that I had gotten caught in, so that I wouldn't get the bends from ascending to quickly. I have been scared by big sharks and chased by poisonous sea snakes. I've been in the middle of huge schools of Barracuda, and I've seen Manta Rays the size of automobiles.
On Okinawa, I raced my motorcycle through rice paddies and over abandoned Japanese airfields full of shell craters. Okinawa gets 130 inches of rain a year, and we averaged one typhoon a month for the 18 months I was there. I once saw it rain 18 inches in one hour. It was like standing under a waterfall.
It turned out that I did like the Navy, but I left it because I couldn't get rated. I passed the 3rdclass radar exam 3 times and was never rated because there were few slots open in peacetime, even though Vietnam was beginning to heat up. In the reserves I fully expected to be recalled, but it never happened.
After the Navy, I spent several years as a field service engineer for United Shoe Machinery working out of 3 different branch offices. Two in Mass. and one in Nashville TN, installing and repairing shoe machinery. I had passed the NY City police exam, but I turned down the job.
Living and working in shoe factories in the Deep South, during the worst of the civil rights movement, I had three strikes against me. I was a Yankee, a Catholic Yankee, and an Italian Catholic Yankee! The KKK was burning churches all over the South, and killing blacks and their white sympathizers. I carried a 45 cal. Colt semi-automatic in my glove compartment, and I slept with it under my pillow every night. I was not raised in bigotry, and I could write a book about the inequities I witnessed during those years in the South.
In 1965 I returned to Mass. and married my first wife, Louise. She was a beautiful switchboard operator in a shoe factory and had a very sexy voice, when she would page me. I was 26 yrs. old and I worked three jobs in order to save enough money to build a house. I built x-ray machines days, I ran a Jenny Gas Station nights, and I sold men's suits on the weekends.
5 years later I built a house in Hampstead New Hampshire, and we had two children there, Michele and Frank III.
Meanwhile I continued to shoot in competition matches. I was a certified Hunter Safety Instructor, as well as an NRA certified rifle, pistol and shotgun instructor. I hunted and fished for years, and I taught Hunter Safety to kids who wanted to get a hunting license. I loved it when the young girls outshot the boys in competition. My daughter is still a great rifle shot.
I sold my coin collection, and now I collected lots of guns, and shooting trophies. I was one of the best all-around shooters in New England and I had friends in every gun factory in New England.
I once entered a pistol match against Tom Ball, the Pennsylvania State pistol champion. I didn't have my own guns with me and had to use his guns, without adjusting the sights. I came within 2 points of beating him. We were friends for years, but Tom never loaned me another gun, and never competed against me after that! He told me that I should never move to Pennsylvania! My reply was that if I did, he would no longer be the State Champion!
But, I was also into repairing and refinishing antique furniture.
Following my time with United Shoe, I worked for 17 years as a field service engineer for the High Voltage Engineering Corp., installing and repairing x-ray generators all over the U.S. and parts of Canada. All that traveling did a number on my marriage, and it ended in divorce after 13 years. Louise remarried twice, and later passed away.
My son has never forgiven me for getting divorced and remains somewhat estranged from me today. Thankfully, I do have a good relationship with my daughter.
In 1980 I married my second wife Jean. She was also a beautiful switchboard operator, at the company where I worked, and had a sexy voice!
In the same year I started New England Mega-Volts Inc., which I ran for 32 years, until the summer of 2012. I also bought vacant land and an apartment building where I designed and built an attached a luxury town house for myself. Meanwhile I bought a condo on the coast of Maine and put it in the rental pool. I was 42, and far too busy to notice or care that I was now in my 40's
In Plaistow New Hampshire I sat on the planning board, where I served from 1981 until 1984, chairing the board for 3 out of 4 years.
From 1989 until 1993 I sat on the ZBA (Zoning Board of Adjustment), and served as chairman for 2 out of 4 years.
I sold my huge gun collection and concentrated on collecting glass, which I have done now for over 40 years.
I became a part time antiques dealer and a glass repairman. I did antique shows all over New England, and I made a lot of money at it. I spent winters in Hawaii, traveled around the Pacific Rim, and bought several motor homes. I went to Las Vegas 3 or 4 times a year. Jean was incredible at the slots and we never came out Vegas with less than 5 or 6 thousand dollars. I could write another book about that.
Meanwhile I ran 3 successful businesses for over 30 years.
I knew very well that I was blessed to be so fortunate, so I shared my good fortune. For years I invited many people to come to stay with us in Hawaii, or on the West Coast. I have never regretted that. Some of those folks would never have gotten there otherwise. I took my friends wild boar hunting on the sides of Haleakala Volcano on Maui.
My company, New England Megavolts, sold and serviced powerful x-ray generators used for cancer therapy and industrial radiography. I worked with hospitals, shipyards, aircraft factories, foundries, ammunition factories, non-destructive testing labs, NASA and numerous military installations.
Between the nuclear weapons, radiation, and ammunition, some of these places were dangerous to work in. On some bases I have had get out of my car and lie down on the road, while Marines with automatic weapons checked my ID pass and vehicle, sometimes several times on the same day.
During the 46 years that I was in the x-ray business I flew nearly 3 million miles, and drove at least another two million. I have driven my motorhomes round trip across the country 19 times.
In New Hampshire I was active in Republican politics, and I have met a lot of famous people. I've dined with two Presidents, Governors, Senators, and Congressmen.
Over the years, I have had several wonderful conversations with World Heavyweight Champion Joe Louis, whom I used to watch on the "Friday Night Fights" as a kid. I have spoken with Connie Francis, Loretta Lynn, Gallagher, Debbie Reynolds, famous English songstress Dame Vera Lynn, and a host of other Hollywood celebrities.
In 1999 I began to write a book about my glass collection.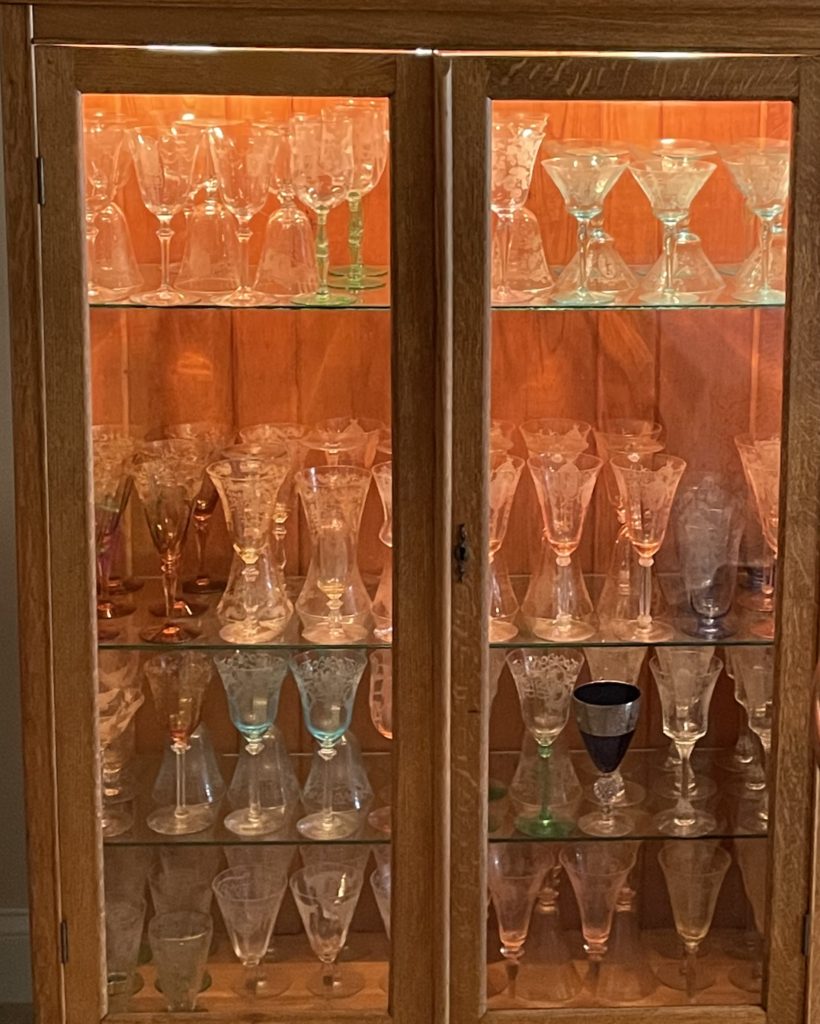 In 2003, my wife Jean died in my arms of a massive heart attack, while we were out antiquing. It was a huge blow after 26 years of a happy marriage.
My writing stopped for about the next three years.
Two months after she died, my friend and attorney Fred Cirome, brought me into the Haverhill Mass. Kiwanis club. My first project was feeding a bunch of hungry kids, who reminded me of myself, and I was hooked on Kiwanis for life.
A year and a half later I met Ginette, after my priest asked me to go on line to see if I could find someone to share my life.
I told him that it was "all his fault", and that his penance was that he had to marry us. He was delighted with Ginette because he was also French. We were married 6 months later, and went on a glorious 4 month honeymoon to the West Coast over the 2004/2005 winter season.
Somehow, I loved and married 3 women of French Canadian descent. I never planned it; it just worked out that way.
I like to tell people that a man my age had to marry a younger nurse, but I thank God every single day for Ginette. She has been my own personal nurse and soul mate when I have had several bouts with kidney stones.
In 2006, we drove the motor home down to Florida from New Hampshire and spent January and February parked at the Beverly Beach Campground while we researched the area and found our house. In June we moved to Palm Coast permanently.
My children, grandchildren and great grandchildren still live in New Hampshire. We sold the New Hampshire apartment building and the beach condo in Maine and paid off the Florida mortgage.
Ginette's family is all in Maine, so I have lots of ties to New England. I need very little excuse to go back to Maine to eat lobsters and see family.
Since moving to Palm Coast I designed and assisted in the construction of a glassed-in Florida Room onto our home. We installed a solar hot water system on the roof, and the house is generator ready in case of hurricanes. I love Palm Coast, and I don't miss cutting the grass or plowing the snow.
When we moved to Florida in 2006, I transferred to the Flagler, Palm Coast Kiwanis Club. The Florida District of Kiwanis, which includes the Turks and the Caicos Islands, has 27 divisions, with nearly 9000 members in 270 clubs.
I became the President of my club in 2008/2009. In 2011/2012, I became the Lt. Governor of Div. 7 with 9 Kiwanis clubs in my division. Under my leadership, Division 7 was named the "Most Improved Division in the Florida District" and I was named "Outstanding Lt. Governor of the Year"
I was the Florida Kiwanis Foundation Trustee of my Division for four years and was heavily involved with scholarships for our Flagler County kids. I'm still doing this in my own club where we give away nearly $40,000 a year in scholarships.
I served on the Board of Directors of the Family Life Center in Bunnell for 6 years, (2007-2013) because I saw myself in some of those victims of abuse. After 6 yrs. I was term limited off the board.
I'm a published author, and I'm a member of the Florida Authors and Publishers Assoc., the Academy of American Poets, the Military Writer's Society of America, and a past member of the Professional Writers group of St. Augustine. I have been writing professionally for my entire adult lifetime, and I am a very experienced negotiator. In the spring of 2016 I finally finished and published my textbook on glass, featuring my own extensive glass collection. It only took 19 years, but I won 5 awards for the book from the Florida Authors and Publishers Association (FAPA).
A number of my articles on glass, as well as a lot of my poetry have been published in various periodicals. I have written poetry off and on for about 20 years but since I moved to Florida I have written a lot more.
I have taught a number of creative writing classes in the Flagler Schools, and I still collect glass, but I am no longer in the antiques business.
I love history, especially military history, languages, cooking, traveling, antiques, glass collecting, and writing poetry. I also collect signed books.
For some 25 years I have been researching and writing a military history of my extended family. To date I have documented the military and federal service of 54 members of my family who have spent more than 250 years in service to our country, dating from the Army of New France in the 1600's until the present day.
Kiwanis is a given, and nothing is better than teaching our 2nd and 3rd grade kids to read.
I have taken up bicycle riding again, after more than 50 years. I usually ride several miles a week.
I am very active in our church, as a lector and as a Eucharistic minister, and I have made many friends in Florida. As a 4th degree Knight of Columbus, I have served as the Color Corps Commander of my Assembly for the last 5 years. Last year alone we answered 93 call-outs.
Just a year ago in June, I was named Veteran of the Week in the Palm Coast Observer
Nowadays I'm given to bursts of energy with naps in between, but when I die, I don't intend to stop moving for 3 days!!
So now my family and friends, you know who I am and where I come from. I have lived my life to the fullest and I hope to be around for some time yet.
I have few regrets, but I don't dwell on them. Today is the first day of the rest of my life. May your life be as full and as rewarding as mine has been.
I have found that true happiness is serving God, Country and my fellow man.
Singing karaoke and eating pizza with friends is a close second.