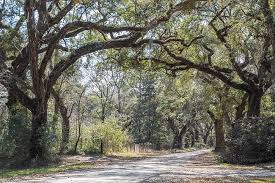 Some roads are simply memorable. Beautiful scenery, historic reference, or just a smooth ride can change your mood. A local example is the road leading into Bulow Plantation. It is a shady narrow dirt road that starts the story of the plantation before you even get there. Roads have always been the connections between places, people, and the past. How exciting to know that we travel the same roads as our ancestors. Natives, slaves, plantation owners, turpentine still workers, families, crooks, or thieves their presence on the road suggests our history is connected. Their influence on who we are could be more important than we think.
When International Telephone and Telegraph Corporation (ITT) finished purchasing 68,000 acres of land in 1969 roads were a big part of their plan. But it was not a new idea.
The first road built through Palm Coast was called Old King's Road. It was approximately 140 miles long and stretched between the border of Florida and Georgia and New Smyrna to our south. Built about 1774 it would become a major thoroughfare for travel, escape, and commerce.
In 1764 the first British Governor of St. Augustine, Colonel James Grant, understood the need for a road that would develop and repopulate the area. Spain had controlled St. Augustine for 198 years. Why did they leave? When the British gained control of Florida via the Treaty of Paris the Spanish fled for Cuba and beyond. Few people stayed leaving Governor Grant with a dilapidated and empty city. How was he going to get people to come there? He started building a road and had some creative solutions for the land. Can you imagine being given a grant, an incentive, for 5,000 acres! To develop the area along Old King's Road Governor Grant offered field officers grants of 5,000 acres, captains 3,000 acres, staff officers 2,000 acres, commissioned offices 200 acres and privates 50 acres1. ITT was generous in donating land to the community, but they would not come close to Governor Grant's sales pitch to the soldiers. It would be a short 20-year British rule in St. Augustine, but the lasting effects of this road are still relevant today.
Did Colonel Grant and ITT have a similar vision? You bet! Hundreds of years existed between them but the purpose remained the same. To populate and easily move people from one place to another. The land and roads were key to the future and profit.
Palm Coast Street Names
It was much easier to name one road long ago. Today Palm Coast has approximately 551 miles of roads with over 2000 street names. Who can we blame for Black Bear, Black Adler, or Black Hawk? Many articles have been written about this topic. Here is a short one with a couple of legends thrown in.
The man's name is Mr. Eric Felter2. He was an engineer for Levitt and Sons and loved naming streets in his spare time. Mr. Felter worked hard and fast to complete his work. There are several stories about how the streets were named. My guess is that there is some truth to them all. Did Dr. Young's daughters name streets? Most probably a few. After all, he was the first ITT President in Palm Coast. Mr. Felter states that he completed his project in two years. A rush job for sure. His short book was published in 1974. You can find an original copy in our Museum. While he discusses his process for naming our streets there are missing details that lead to speculation and wonderful legends that could be true. Was there a bottle of scotch in the center of conference table in New York with a group of white shirt and tie gentlemen circling it and having a good time? I hope so. It is my favorite story. Was the phone book used? Maybe early on. New Yorkers are quick on their feet. But truly Mr. Felter did have a plan of action supported by a lot of research. He talked to many people, studied history, and did his best to anchor the street names to local resources and our natural environment. He was very systematic and kept the streets together and alphabetized. Still, it may be safe to say, he managed to confuse us all and yet provide a great story, uniqueness, and organization to our community. By the way, do you live on Felter Lane? Now you know the history of your street name.
There is also wonderful history found in our original core area surrounding the Palm Harbor Golf Course. The first homes were built there, and the roads all start with a C! Casper Drive was named after Billy Casper. He didn't yell four!! He was a legend in golf history.
ITT Roads / City Roads
ITT took a leap of faith, a lot of planning, and dare I say, a lot of money, to encourage people to buy undeveloped land. It was a planned community with strategic development phases. People wanted roads but it was a vision that encouraged them to invest their money.
Long ago Old King's Road travelers were grateful for a coquina shelled road that was 16 feet wide. Conditions always varied with the weather when Minorcans, soldiers, cattle, wagons, slaves, natives, families, criminals, and the aristocrat of the day traveled it for their different purposes. ITT roads were paved and easy to navigate and after some neglect were paved again. They would also carry immigrants, farmers, families, swindlers, and thieves. But mostly they led good people from across the country and world to a piece of land they would call home. One direct road, given the landscape, was needed in 1774. Many would be needed in modern times.
In 1970 Dr. Young expected Palm Coast to be the size of Detroit. The leadership knew that a good road system would be key.  They also knew a 40-minute drive to the beach was unacceptable. In the early years Palm Coaster's would drive south on Old Kings Road to Rt. 100, left for Flagler Beach, and north on A1A to get to the Sheraton and beaches. They had to drive this to go grocery shopping. This was not going sell a lot of homes.  But a 5-to-15-minute ride to the beach would do just that and ITT was right.  Convenience and access are why we have three I95 interchanges, the Hammock Dunes Bridge and a couple of City Departments to manage and maintain some of them.
We never grew to be the size of Detroit. Thank heavens. But we continue to widen and improve our roads to be prepared for it. It turns out that a road is simply not a road. It is a path that was created by leaders with a vision. They are meant to bring people together and let them get out of dodge quickly. The 551 miles of roads in Palm Coast continue to provide access, profit, and a home to protect us. Enjoy your time on the road.
That Google
There have been many articles written about Mr. Felter. Art Dycke wrote about this. You can find it in our Palm Coast Historians in the Museum or on our webpage. Also a simple Google search will satisfy your needs in this respect.
An excellent book about Old King's Road has been written by Bill Ryan. The Search for Old King's Road can be found on Amazon.
Our Museum has many articles, maps, and books for you to research your city. Check out our web page for information and visit us in Holland Park. https:/palmcoasthistory.org
Finally
The City of Palm Coast has a total area of 90.8 square miles, of which 89.9 square miles is land and 0.97 square miles, or 1.06%, is water3.
Paths, trails, roads, highways, bridges, canals, rivers…they all take us somewhere. Let us protect what we still have and celebrate those who came before us. Thank you for laying your own path through Palm Coast and Flagler County.
Thanks to:
Ryan, Bill. The search for Old King's Road. 2012.
Felter, Eric. The Naming of Palm Coast. 1974.
Wikipedia
The Palm Coast Historical Society collection of Historians, maps, articles, and pictures.
Visit our Museum in James Holland Park on Florida Park Drive to learn more.