Membership in the Palm Coast Historical Society helps fund programs and events for you.  It enables us to be offer community events and activities that we love to share with you.  All of our tasks are completed by dedicated volunteers who have a desire to preserve local history and share it with residents, young and old. More than ½ of our budget is derived from membership dues and donations, so your contribution is valuable to our continuing success.
---
Whether you want to take an active role in the organization's leadership, volunteer on an occasional basis or just attend functions and receive the newsletter, there is a place for you as a member.
---
It Makes All the Difference
When you become a member of the Historical Society you join an exclusive group of people. Yes, you receive the benefits of lectures, museum exhibits, history articles, activities and more but you can also be proud to know that you are supporting a tangible part of life that will be around forever, our history. With your help via membership and volunteering you actively help to preserve our past and bring to the present the knowledge, experience, and even mistakes that have shaped our city. Thank you.
All Members Receive the Following Benefits:
10% off local sponsored products
Free entry to our Speaker Series and Zoom Lectures
10% Discount on PCHS special events
Invitation to the annual meeting
Monthly Newsletter

Membership dues, donations and contributions are tax deductible as permitted under current law.
---
Become a Member
There are five levels of Membership: Single, Family, Life, Local Non-Profit Organization/Clubs, and Business. Choose the right one for you for the 2023-2024 season.
Member Sign Up Form
---
It's an easy process to become a Palm Coast Historical Society Member. Simply select your Membership type below and you'll be taken to a secure online payment page. Provide contact and payment details and that's it, your card will be on its way!
If you'd rather pay through the mail, click here.
---
A membership for an individual. Paid Annually.
---
Good for everyone in the household. Paid Annually.
---
Life Members will receive an opportunity and invitation to record their Palm Coast History. Good for a lifetime!
---
Local Non-Profit Organizations receive a listing on our website to their webpage. Paid Annually.
---
Business Partners and Sponsors receive a listing and logo on our website and in our newsletters and brochures. Paid Annually.
---
Mail-in Form
If you'd like to signup by mail instead of online, you can download the form and mail it in.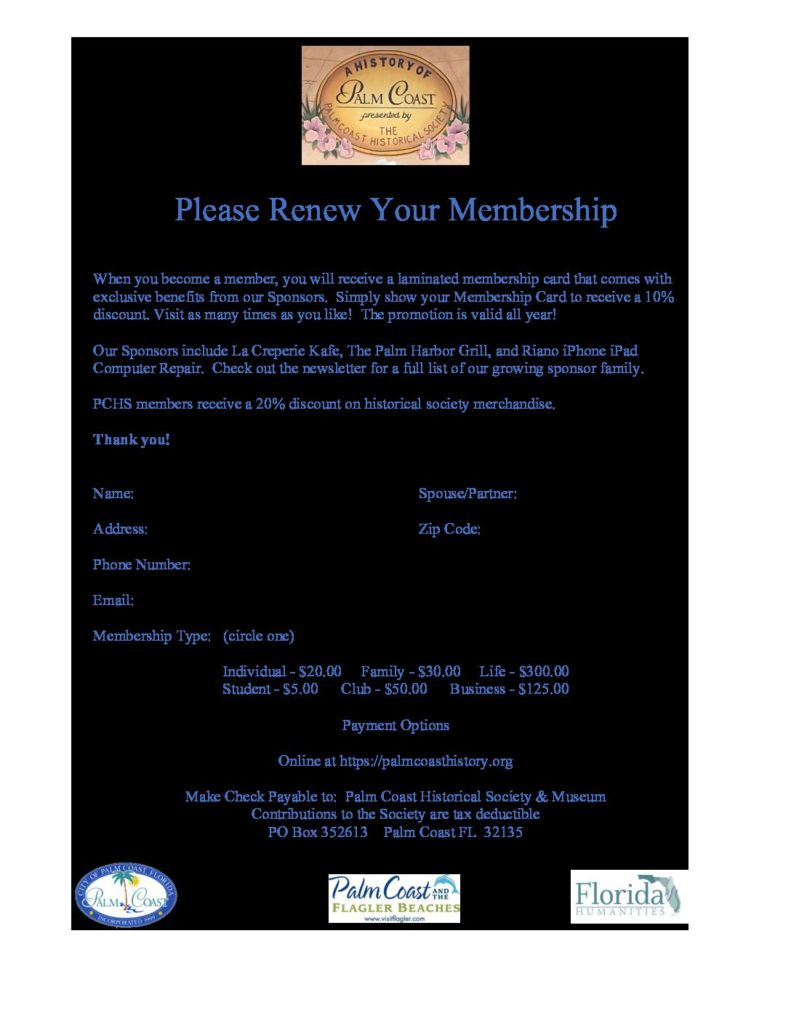 ---
Receive Local Discounts!
---
When you renew or join this year you will receive a laminated PCHS 2023-2024 Membership Card that comes with a new and exclusive benefit at La Creperie Kafe and the Palm Coast Grill. Simply show your Membership Card to your server at the La Creperie Kafe, and the Palm Coast Grill to receive a 10% discount. It adds up over the year!
There is no limit to the number of times you can use your card. The promotion is valid all year! It's the perfect way to support our non-profit Society and a local business too.
---
---
---
Please support our business members and sponsors– they appreciate and support Palm Coast history.
Please support the business members of our Historical Society, including not for profit organizations. It is a perfect example of our community working together for all of our citizens. Our business members appreciate and support Palm Coast history. We appreciate them – please patronize their business! Visit their websites to learn more by clicking below.
---
---
Thank you all!